Help me fund my newest album -
"One Nerdy Knight"!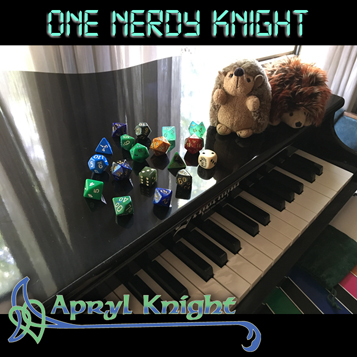 McDade, TX // Sat & Sun 3.3.18 - 4.22.18 & Fri 3.16.18 // Sherwood Forest Faire
I'll be performing with Mark the Harper and Fenice del Mar as Tulstin Troubadours at the Horseman Stage at 11 and 5(ish), and at The Grove Stage 12:30 & 2:30 Order tickets here. 1883 Old Hwy 20, McDade, TX 78650
Austin, TX // Wed 3.14.18 // Things Celtic
I'll be celebrating St. Patrick's Day one day early with Tulstin Troubadours doing a free lunchtime concert from 1-2pm. If you can't come see it in person, I have a Facebook Live recording. 1806 W 35th St, Austin, Texas 78703
Columbus, OH // Wed-Fri 6.13.18 - 6.17.18 // Origins Game Fair
I'll be performing in the breezeway between the convention center and the attached hotel on Wed from 6-7, Thur-Sat from 11-12 and 6-7, and Sun from 11-12. In addition, I'll be in a group concert with Rhiannon's Lark, Dan the Bard, and Tom Smith on Thursday from 8-10pm. I might do some impromptu extra shows in the room where we'll be doing the concert - I'll update here if so. Order badges here. Greater Columbus Convention Center, 400 N High St, Columbus, OH 43215
Indianapolis, IN // Thur-Sun 8.2.18 - 8.5.18 // GenCon
I'll be both roving and performing at the C/W Stage (a performance space located at the intersection of the Crossroads and Wabash concourses - if you're facing the large check-in lines, it's to your left.) When I'm roving, your best bet is to find me at one of the blue Xs on the map (I might be elsewhere, but these are the first places I'll try to be.) Schedule - TBA, and performing at the Comedy Cabaret at the Westin Grand V - time TBA. When not in the halls, I'll be at my table in the far back of the Exhibit Hall. Order badges here. Indiana Convention Center, 100 South Capitol Avenue, Indianapolis, IN 46225
Wentzville, MO // Sat & Sun 9.15.18 - 10.14.18 // St. Louis Renaissance Faire
I'll be busking in the lanes in front of the Piscataqua & Balch Wand Shop. Order tickets here. Rotary Park, 2577 West Meyer Road, Wentzville, MO, 63385
Want to see Apryl Knight in your city? To get me in your home, cafe, or community, send me an email and include the name of your city/state (or country) in the subject line.